Hiya
Welcome to my blog, i know it looks pretty plain and dull at the moment lol, but im hoping to get a layout sorted over the next few days!
Here are my first 2 kits i have made "Juiced" and "Funky"
I know the preview aint so great for "Juiced" lol, that was the very first kit i made! i love the colors that i have used for both kits, but i think "funky" is my fave!
They are both taggers size kits.
Links to download them are below the previews.
I hope you like them!
Feel free to send the link to my blog to all your friends!
Click the thumbnail for fullsize preview



Download
http://www.4shared.com/file/58053379/c47b72d2/KKS_Juiced.html
Click thumbnail for full size preview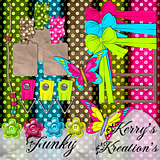 Download
http://www.4shared.com/file/58051921/104943f8/KKS_Funky.html